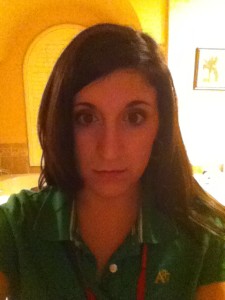 This is my "grad school equivalent of
senioritis" face. (Or a picture I accidentally
took with my phone the other day. Either way.)
The start of the spring semester last month marked the beginning of the end.
The end of grad school, assuming I pass comps so I can walk in May.
I walked into class on Jan. 8, naturally overcome by the deep-seated confidence that I would fail comps in March as a direct result of the existence of the Lifetime Movie Network.
(Don't judge me.)
I've been tired for awhile. Dreaming of the time to read for leisure, and write a lot more than I write, and partake in communication not mediated by computers. So by the time the spring semester rolled up, I was – to quote what I am fairly certain I recently said to my adviser's face – "OVER IT."
But the grad school equivalent of senioritis plus a slightly-more-than-mild case of test anxiety does not equal graduation in May. It equals the Lifetime Movie Network (who knew?).
So as of late, I have had to force myself to resist the TV and grab grad school by the horns for the final time. In the process, I have concluded there are three ways I intend to not fail grad school. And they are these:
1. By gratefully accepting the grace of God. Because frankly, it is ultimately by His grace that a young woman for whom it comes far more naturally to procrastinate than not has not already flunked.
2. By buying people lunch if they agree to quiz me. Attention local friends: Expect an invitation. I'll buy your food and I'll bring the flash cards. Boom. (Bonus: It'll be like grad school for you, but faster. And free. And there's food.)
3. By using the Pomodoro Technique.
I would like to take this opportunity to publicly thank my friend and fellow blogger
Edmund Mitchell
for casually mentioning the Pomodoro Technique via Google Talk chat last month, because it is changing my life. I'll sum it up like this: Set a timer! Work for 25 minutes, break for 5. Badabing, badaboom.
And great news:
Lord willing, it equals graduation.