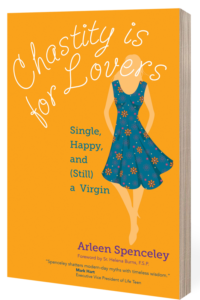 Chastity Is For Lovers, which is a first place winner of a 2015 Catholic Press Award, is "one of the best books I've read regarding what chastity is, who is called to live it out, and how it can be lived out," according to one reviewer. According to another, it is "well worth reading, for man or woman, young or old." | Paperback; 160 pages; Ave Maria Press (Nov. 28, 2014). Click here to read a sample of the book!
To order copies directly from the publisher, click here.
To order signed copies directly from Arleen, click here.
To order copies from Amazon, click here.
To order copies from Barnes and Noble, click here.
– – – –
Disclosure: This post contains affiliate links. So, if you click the links and purchase the products I recommend, I earn a little commission at no extra cost to you. And when you do, I am sincerely grateful.