This post is part of a monthly series called PRIESTS & NUNS ARE COOL! in which I interview a priest or a nun about his or her vocation — and about how adults who haven't discerned a vocation yet can discover their own. This edition features Sr. Theresa, a Daughter of St. Paul who lives in Miami.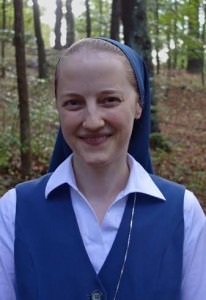 Sr. Theresa Aletheia Noble, who professed her first vows as a Daughter of St. Paul earlier this year, used to be an atheist.
Now, she is author of the book The Prodigal You Love: Inviting Loved Ones Back to the Church, a guide for Catholics who have loved ones who have left the Church and an interest in inviting them back. Sr. Theresa spends time talking to parish groups about the book and helping people apply what she wrote in it.
She describes her life as apostolic and contemplative, busy but peaceful. She lives in a convent in Miami, evangelizes in a Paulinas bookcenter, drinks café cubano, bakes bread, and blogs. She is gracious to discuss her vocation for this series, and to tell us how an adult who doesn't know his or hers yet might discover it: