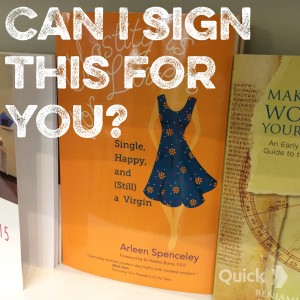 HAPPY (almost) NEW YEAR! A year ago right now, from atop an air mattress (long story), I began to type the final few thousand words of Chastity Is For Lovers: Single, Happy, and (Still) a Virgin.
As 2014 draws to a close, I begin the next leg of that journey: to share the finished product with THE ENTIRE WORLD. 
Or — let's face it — with as many of the people in it as I can reach.
I wrote Chastity Is For Lovers because adults who practice chastity exist, who are saving sex or sex from now on for marriage, who have felt alone — I want them to know that they aren't. I wrote it because adults exist who have been taught that chastity is abstinence (it isn't) — I want to present real chastity to them so they can decide whether to practice it based on the truth, not on a misconception of it. 
As Ave Maria Press and I continue present the book to the public since its November 2014 release, a question has come up among my blog's readers: "Can I get a signed copy?"
I finally have an answer: YES.
For a limited time in 2015, readers within the United States who'd like a signed copy of Chastity Is For Lovers can order one directly from me. Each copy is $13.95 and shipping/handling is $5 for up to 5 copies. Interested? Request details re: exactly how to order by sending me an email.
Hope to hear from ya. Whether I do or don't, please know how much I have appreciated your support in 2014. Stay tuned to the blog for new posts, starting Monday. Praying today for a happy, healthy and fun new year for you all.
[callout]Want a copy of Chastity Is For Lovers but don't live in the US or don't need it signed? Order here.[/callout]