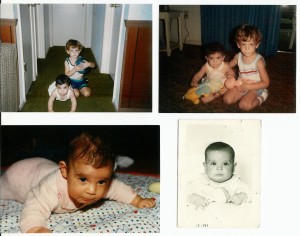 The babies are me, except for bottom right.
That's my mom, and – obvs – I am her clone.
As I write in a mildly crowded Starbucks, conversations buzz above Michael Buble and the whir of whatever baristas do behind that counter. It's Mother's Day, and while I spent most of it with my mom, I people watch and gather thoughts and have come to the following conclusion:
My mom is awesome.
The reasons for this are infinite. Here are five favorites:
1. My mom holds the bar high. She isn't a tiger mom, but she always has had an implied set of standards she challenges us to meet. This is not because she likes to see us stretch to reach high bars. This is because she trusts that she and my dad raised us able to reach them, able to endure the discomfort associated with growth. She expects the best out of us, because she wants the best for us, and believes we are capable of growing into the best versions of ourselves.
2. She trusts me. At 18, I would have begged to differ (but at 18, some concepts are harder to grasp than others). As a 27-year-old woman, there are few moments more valuable to me and none better examples of her trust than the ones in which my mom asks for my opinion.
3. She got on the school bus once. Among the worst things that could happen to a kid is to cross paths with a bully on the bus. Among the worst things that could happen to a bully on the bus is to encounter my mom. One morning, the day after I told my mom a fellow student had been bullying me en route to my elementary school, she stood with me at the stop. When the bus arrived, she followed me onto it. I pointed the bully out, and she approached the bully. …Let's just say the bully never bothered me again.
4. She pays attention. She listens when I talk, and she listens when I don't. My mom has a knack, made in part of fine tuned intuition and in part of a master's degree in rehabilitation and mental health counseling (Yes, she has one, too!), for knowing what's on my mind, even when I can't find the words to express it. She puts pieces of information together like a puzzle, and solves it even when pieces are missing. This is a fabulous trait for a therapist, and a fabulous trait for a mom.
5. She gives and doesn't count the cost. I am, however – in my opinion – forever indebted. I could make a list of what she's given, but it would take up the entire internet (and it would take the rest of my life). I am certain I don't express as much as I should what I could sum up in two simple words: thank you.
Happy Mother's Day!