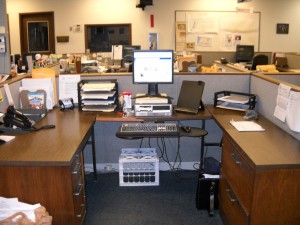 ….how my desk looked once.
Now's as good a time as any to announce publicly that my days at the desk to your left – second row, second from left in the Port Richey newsroom of the Tampa Bay Times – are numbered.
After working for five years and three months as a staff writer for the Tampa Bay Times, formerly known as the St. Petersburg Times, I am resigning.
And I definitely bawled when I broke the news to my editor.
But this is not an end, as much as it's a beginning.
The beginning of a new phase of my relationship with the Times, for which I wrote freelance for three and a half years before I joined the staff in 2007, and for which I'll write freelance again.
It's also the beginning of professionally doing the other half of what I do. I'll work my regular schedule at the Times through Fri., Nov. 9 and beginning Nov. 13, I'll work full time as a counselor.
I'll also write still.
And study for comps (the exam I'll have to pass in order to graduate).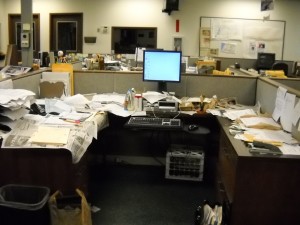 ….how my desk usually looks.
Write some more.
Finish a book proposal.
Write more still.
And cherish the memories I made while working at three different Times desks (one in Tampa, one in Wesley Chapel and one in Port Richey) in five years.
Memories I'll share in another post sometime next week. Stay tuned. 🙂