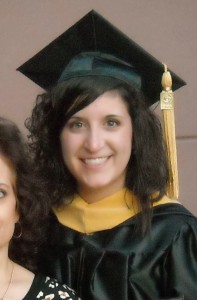 In 2013, I finished my MA!
We're a day now from 2013's finale, which, like every year's end, inexplicably comes as a surprise.
Time flies.
Before the ball drops, I thought it good to reflect on the year, which for me, represents in part some bittersweet ends and exciting beginnings. It is with gratitude for each that I share 10 of them:
1. I returned to Twitter: Earlier in my 20s, I deleted all my social media profiles and swore off smartphones, which — as I wrote in a 2012 Times essay about it — had a big impact: "My world indeed is smaller now, but everything in it has more depth." My aversion to computer-mediated communication was sparked in part by how distracted by it I was, and because I am part of "the crappiest generation of spoiled idiots," according to comedian Louis CK. I forfeited the convenient way to make and stay in touch with friends but faced a choice when I discovered that being an author could become a reality. All my author friends shared the experience and opinion that publishers don't take writers seriously who don't use social media. So, for professional reasons, I returned to Twitter. The move has paid off, not solely professionally but also personally. I have crossed paths with people I otherwise wouldn't have met, for whose roles in my life I am grateful.
2. We lost a pope: "THE POPE IS RETIRING," I wrote in the subject line of the email I sent to my brother after learning on Feb. 11 that Pope Benedict XVI would resign. That a papacy could end because a pope retired was not within my awareness — and it wasn't within my awareness because, as it turned out, it hadn't happened in 600 years. B16's decision, underlain by wisdom and humility, made history (and made me cry a little), propelling the Church into the unknown in a conclave we didn't expect.
3. I got a book deal: On Feb. 28, 2013 — the last day of Pope Benedict's papacy — I sat at the kitchen table, typing grateful Tweets to the pope and waiting to receive news that would make or break my day (and potentially change my life). In Notre Dame, Indiana, 1100 miles north of my house, the people gathered who would determine which kind of news I'd get. They deliberated, and decided, from a room at a publishing house called Ave Maria Press. After the meeting, an editor delivered the news to me like this: "So," he said. "How would you like to write a book for us?" I SAID YES. I waited to announce it publicly until October, and am grateful for the support, encouragement, and prayers I have received since.
4. We gained a pope: "I HAVE A POPE!" I shouted down the hall outside my office in the youth shelter where I worked as counselor. The white smoke had risen while I was in with a client, and by the time I heard the news, our new pope — Pope Francis — already had given his blessing from the balcony. "I would like to give the blessing, but first — first I ask a favor of you: before the Bishop blesses his people," he said while I watched it on TV later, "I ask you to pray to the Lord that he will bless me: the prayer of the people asking the blessing for their Bishop. Let us make, in silence, this prayer: your prayer over me." It became clear pretty quickly that this pope is the pope of my dreams.
5. I graduated with my master's degree: Until I signed a book deal, grad school was the greatest (most time-consuming, most challenging) feat I ever had attempted, and the countdown to graduation earlier this year was bittersweet. We sat in a circle during my last class ever in April, to process (like counselors do!) the end of the grad school experience. I acknowledged in the circle that I was happier and sadder than I thought I could be at the same time. I was happy to be freed from the constant state of studying, and sad to say goodbye to the people with whom I'd spent so much time (and the places in which we spent it!). Grief over the loss of grad school quickly faded after I crossed the stage at the Sun Dome in cap and gown on May 4.
6. I went to the Theology of the Body Institute: As a graduation gift to myself, I registered for Theology of the Body I, a week-long course at the Theology of the Body Institute. I flew to Philly for it on June 9, not knowing what was about to happen was one of the best weeks of my entire life. I knew no one upon arrival and left having acquired new friends and new faith in Catholic young people. I learned a lot about TOB (but only the tip of the ice berg) and intend to take a second course in 2014 (Lord willing, Love and Responsbility!).
7. I resigned from my job as counselor to teens: I've not blogged about it before, but from Aug. 2012 through Oct. 2013, I worked as a counselor to teens at a shelter for youth. At first, I worked 14 hours per week as an intern, until I resigned from the Times to accept a full time job at the shelter. The gig doubled as a new job and as the full-time counseling internship I needed in order to graduate. As a counselor to teens — foster kids, homeless kids, runaways, and kids in conflict with their families — I learned a lot, including but not limited to these things: teenagers are hilarious (and many of them, resilient), counseling them is hard, and how grateful I am for the parents I have is incalculable. While there are memories I'll cherish (such as driving a mini van full of singing teenagers across the Tampa Bay Area), I resigned from the shelter in October to return to the gig I had before I interned.
8. I returned to the Tampa Bay Times: In a VERY unexpected but VERY welcomed plot twist, the girl who replaced me when I resigned from the Times in 2012 resigned from the Times herself in October this year. In secret, I longed for the chance to return to the Times, where prior to my own resignation, I had worked for five and a half years very happily. The chance arrived when after my replacement's resignation, she shared my secret with our editor, who offered me my job back when I called her. I accepted, of course, and it truly has been a homecoming.
9. Sr. Helena Burns agreed to write the foreword for my book: I sat in my room, working on the book, when my phone buzzed with a tweet — "Mentioned by @SrHelenaBurns: I am totally writing the Foreword to Ms. @ArleenSpenceley's awesome new book on the very popular subject of chastity. #StayTuned. The news was news to me, and good news — scream and accidentally drop your phone good. Can't wait to read what she writes at the start of the book.
10. I wrote a book: As of 12:26 a.m. on Dec. 23, my editor had the entire first draft of the book in her possession. While the book is "done," it's nowhere near done. As 2013 ends and 2014 starts, I will revise what we have as the editing process starts. Your continued prayers are appreciated.
– – – –
What happened in your life this year?