This post is part of the Sex! And other stuff. series. Click here for more information.
– – – –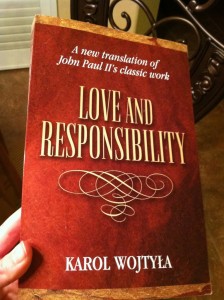 Love and Responsibility: I am VERY excited to report an advanced copy of Pauline Books and Media's new translation of my favorite book arrived last week. Love and Responsibility is a brilliant book written by Pope John Paul II before he was pope. Anybody who ever intends to get married ought to read it. The publisher releases the book for real in April. I'll try, try, try to read it all before it's released. Might not happen. But since my hunch is I am gonna love it, click here to pre-order your own copy.
Sex outside marriage v. sex inside marriage: Fellow blogger Jamie the Very Worst Missionary wrote a fabulous post in favor of loving instead of shaming the people who haven't saved sex for marriage. Best part of the post, though, is this: "Sex matters. It's the most vulnerable thing you'll ever do with another human being. Commitment breeds intimacy, and intimacy is what makes sex freaking amazing. I'm not gonna lie, you can have hot sex outside of a committed relationship – but mostly it's gonna be like… clumsy… and goopy… and ew. The better you know your partner, the better your sex will be. So basically what I'm saying is that wedding night sex is kinda "Meh.", and five years sex is all "Yes!", but 18 years sex is like "WOAH!!!" So go ahead and wait. Wait and enjoy the waiting, and then bask in all those learning experiences with your most trusted friend." Click here to read the whole post.

Virginity in Tampa: Stumbled upon a story in The Oracle, my university's student paper (for which I worked for a year while I was an undergrad!). First line says this: "A recent survey has found that women are choosing to lose their virginity later in life." By later in life, The Oracle means age 20. Sigh. The study it cites surveyed 77,000+ women, including 4000+ in Tampa. "While a study from the Kinsey Institute at Indiana University says the average age women lose their virginity is 17," the story says, "Tampa women say the ideal age to lose it is 20." Click here to read the story.