[callout]This post is an excerpt from chapter 5 — "Love: The Hardest Thing You'll Ever Have to Do" — of my forthcoming book, Chastity Is For Lovers: Single, Happy, and (Still) a Virgin, (Ave Maria Press, 2014).[/callout]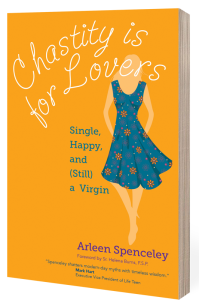 In the dark on the seventh deck of a Miami-bound cruise ship, I curled into a comfy chair to the left of the stage in the Latin club.
A Dominican quartet played live music. I sat alone, up late for the last night of my trip.
I tipped back my glass of ice water to take a swig, and the giant white napkin I at first didn't know was stuck to the glass's bottom shone like a beacon in the night.
Smooth.
I laughed at myself when I noticed the napkin, tore it off the tumbler's sweaty bottom, and made another, more startling discovery: the Dominican quartet's drummer probably saw it happen. He had a smile on his face, at least, and a güiro in his hand, while he watched me from behind his drum kit. I smiled back and nodded to the beat of the merengue he played.
While we held eye contact, my heart stopped before it pumped faster, and I blushed and got butterflies. For no sensible reason, I wanted to meet him. I had to meet him. I also had to get some sleep, in order to be ready to debark at the port at 7:00 a.m.
Already past one in the morning, I resolved to introduce myself to the drummer, but if and only if the band called it quits for the night within a song or two. And as I thought that very thought, the band's vocalist made an announcement: "This song will be our last."
I'll do it, I decided. I'll meet the drummer. The song ended, and the drummer waved at me when I stood from my seat. We locked eyes while I walked in his direction, and he stood up as I stood in front of him. He reached out his hand, and I shook it. "Hi," I said. I smiled, and he smiled back. Then, I panicked. Does he speak English? Do I look nervous?
"I don't speak Spanish!" I blurted.
My awkwardness didn't faze him. Through a thick Dominican accent, he told me he had seen me watch him play twice before on the ship, once with a man. "Your boyfriend?" he asked.
"No," I laughed. "My brother."
"Can we, uh, keep talk?" he asked in broken English. I said yes and gave him my card. But the look on his face implied that he had not asked because he wanted to get to know me after my trip. He wanted to "keep talk" now, at 1:30 in the morning on the ship. I shook my head. "I have to go," I said. He took my hand slightly, drew me in lightly, and kissed my cheek.
I bit my lip and whimpered a little. I backed up but didn't let go. I didn't want to. My hand in his felt right, beneath the blue lights that shined on us from above the stage.
[callout]Chastity Is For Lovers is on sale Nov. 28. Click here to pre-order it.[/callout]