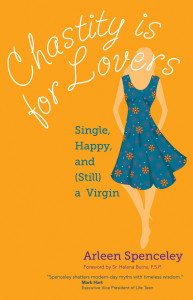 Is 108 days in advance too soon to start a countdown? Because in 108 days, on Nov. 28, my debut book — Chastity is For Lovers: Single, Happy, and (Still) a Virgin — will ship to the people who preordered it, and will be on sale for real for the people who didn't.
I am moved each time I remember it's really happening.
Since I first announced that Ave Maria Press would let me turn my proposal into a book, regular readers have been gracious to support me, by praying while I wrote, and participating in surveys, and practicing patience while I tweeted too much about the critical role pretzels play in the writing process.
I am sincerely grateful.
I turned the book in for the final time on June 12, and while we wait for it to hit shelves, a handful of fabulous friends have asked how else to help. If you are interested, too, here are three ways:
1. PRAY. Your prayers worked while I wrote. They work while I speak. And they'll work, I believe, while readers read. So as the book launch nears, pray for the people who'll read Chastity Is For Lovers — the ones who'll love it and the ones who won't.
2. PARTY (with me). If you're in or near the Tampa Bay area (or can be in the first week of December), mark your calendar for one of my book launch parties. The first is from 7-9 p.m. Dec. 5, 2014 in Xavier Hall at St. Frances Cabrini Catholic Church, 5030 Mariner Blvd., Spring Hill, FL. Click here to RSVP to it on Facebook. The second is from 1-3 p.m. Saturday, Dec. 6, 2014 in rooms 201-203 on the second floor of the Mary Martha Center at Christ the King Catholic Church, 821 S Dale Mabry Highway, Tampa, FL. Click here to RSVP to it on Facebook. The book will be available for sale at both parties. The food (and not just pretzels) will be free.
3. PLAN (for me to speak at your church's or diocesan young adult event, conference, or retreat). I am now booking for Spring 2015 and beyond. Click here to see my schedule so far. If you aren't in charge of booking speakers for your church or diocese but would like me to speak in your city, leave it in the comments beneath this post, tweet it at me, or send it to me in a note.
Grateful!