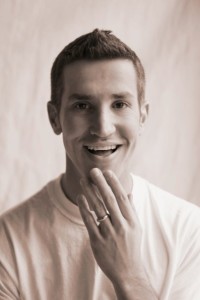 3 Lessons and 2 Tips is a series of interviews in which some of my favorite people (and probably some of yours) share three lessons they've learned by being married, plus two tips for single people.
This edition features Jon Acuff, who is singlehandedly responsible for fostering my ability to find meaning in the flattened biscuit I found stuck to the bottom of a slip-resistant shoe.*
But better than for the impact he's had on my memories of being a writer stuck working at a Popeyes Chicken, Acuff is known for being a New York Times Bestselling author of four books, including his most recent, Start: Punch Fear in the Face, Escape Average & Do Work that Matters. He has been married since April 21, 2001 and graciously agreed to share some of what he's learned as a husband:
AS: How did you meet your wife?
JA: We both went to Samford University in Birmingham, AL. (Fortunately God made sure I didn't meet her when I was in college because I was an idiot.) After I graduated, I worked at an ad agency as a copywriter. Jenny was a senior and got an internship at the agency. We worked on a big project together and fell in love.
AS: What's the first lesson you've learned in marriage?
JA: That you have to be deliberate about doing life together. The default as humans is to naturally drift apart and continue to build and manicure your own life, even as you're supposed to be living as one. You really have to fight to stay connected.
AS: And a second lesson?
JA: Create a space and a time where you get to talk without iPhones or computers. Three to four times a week Jenny and I spend a few hours talking and brainstorming where are lives are going.
AS: And a third lesson?
JA: Put your kids to bed at a smart time. I feel like the third one should be "Marriage works best when you are connected to God," but hopefully that's understood. From a more practical approach, I would encourage couples that have kids to put them to bed. I know folks who let their young kids stay up to 10 p.m. and it guarantees that the couple never has alone time to connect. (This one might be harder to live out once we have teenagers, but we'll adjust then.)
AS: What's one tip for readers who are single?
JA: Don't ever buy the lie that a husband or a wife is going to "complete you." That idea works well in movies but destroys marriages in real life.
AS: And a second tip for single readers?
JA: If you want to meet people, go do things where people are. Be active in building community. My friends who want to get married and think that perhaps God will deliver a perfect spouse to their couch, while they wait and isolate, are sorely mistaken.
[callout]Connect with Jon Acuff: Click here to visit his site, here to follow him on Twitter, and here to like him on Facebook. *Curious about Jon's connection to the biscuit I found stuck to the bottom of my shoe? Click here.[/callout]