A couple weeks ago, I curled up on the couch, pumped for the series premier of a show I was sure would strike a chord or a nerve: Virgin Territory. In it, young adults who haven't had sex discuss what life's like for a virgin. Some have committed to abstaining from sex outside marriage. Others are looking for somebody with whom to sleep.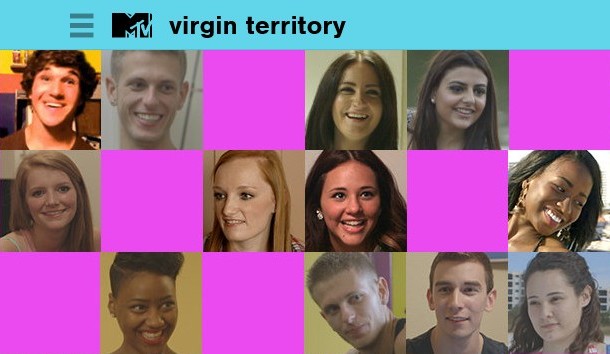 The first episode, in which MTV followed Lisa Potts during the days that led up to her wedding,  struck a chord. Potts, a Christian, saved sex for marriage. The second episode, in which cast member Mikaela went on the "honey hunt" in L.A. and cast member Kyle crafted a hot cocoa/horse-and-carriage date with a girl with whom his friends hoped he'd "seal the deal," struck a nerve.
Both episodes, which introduced viewers to a handful of the 15 cast members who'll show up throughout the season, inspired me to shout stuff at the screen. Here are four of the statements I shouted, with explanations:
1. TALL, TATTOOS, KHAKIS AND CHUCKS IS NOT ENOUGH INFORMATION! In a video diary-style monologue, Mikaela — a 19-year-old virgin who is interested in meeting a man with whom to have sex — described her perfect guy: He's taller than she is, has lots of tattoos, and wears khaki pants and Chucks. I don't know Mikaela. I don't know if by "perfect" she means "marriageable."  I don't know if MTV edited other qualities out of her monologue. But what one person wears is sometimes enough information for another person to decide to date or have sex with him or her, and that is horrifying. Marriages and families aren't suffering and dying in our culture because not enough of us pick partners based on stuff like "tall, tattoos, khakis and Chucks." Marriages and families suffer and die because they start based on stuff like "tall, tattoos, khakis and Chucks." We've got to discern before we date, and we've got to discern while we do.
2. IF YOU WANT IT TO BE A DATE, TELL HER. In the show's second episode, Kyle, a 20-year-old virgin, sat in his dorm room, where he worked up the courage to call Tabby — a girl he liked — about a date. When he did, he fumbled for awhile before he settled on an ambiguous invitation: "I was wondering if you wanted to go out and do something." Kyle is learning, and he is trying, and that is to be commended. But men: if you want it to be a date, tell her. Frank, explicit expression of your interest is important. It shows us that you are willing and able to communicate, and provides us with an opportunity to confirm our own interest (or lack thereof) for you. While I am sure it's hard to learn a woman doesn't want you to take her out, it's harder when you don't find out until you're halfway through what you hoped would be a date.
3. PEOPLE ARE NOT OBLIGATED TO LIKE EACH OTHER! Though Kyle's invitation was ambiguous, Tabby agreed to meet him. For her, he had arranged an evening he hoped might win her affection: hot cocoa and a ride on a horse-drawn carriage. Immediately apparent to Kyle and to the who-knows-how-many-viewers who watched the show, cocoa and a carriage didn't do it for her. She rolled her eyes at his surprise, denied his request to put his arm around her, and only coldly put up with his presence. Ladies who live-tweeted spoke out: "WHAT ELSE CAN SHE ASK FOR?" Kyle's fans called Tabby names, and declared her disinterest in him unfair, because he had made an effort. While Tabby treated Kyle unnecessarily poorly, hot cocoa and a horse-drawn carriage is not going to create attraction where there is none. A man's effort or expression of interest does not obligate a woman to like him (nor does a woman's obligate a man), because people are not obligated to like each other.
4. I'M SO GLAD I'M CATHOLIC. In Virgin Territory's first and second episodes, cast members who sought to date (if not sleep with) members of the opposite sex danced in crowded clubs, where girls' body parts got grabbed by guys and guys got teased by girls. After a party, Kyle's friends, who are "on a mission to get him laid," called him out for not taking "that" home — that, being a woman. At a bar, a friend of another cast member tried to talk her into having sex with somebody just once, despite repeated expression of her decision to save sex for marriage. Mikaela's "honey hunt" didn't work, and the whole show hurt my heart because the relationship quest for some of the cast is devoid of what brings meaning to all relationships: Jesus Christ. It is because of him that dating in which virtue is irrelevant is not part of my world, that I believe sex is a sacred, physical sign of the commitment spouses made to each other on the altar where they were married, ultimately designed to bond them and to make babies. It is because of Catholicism that I know him. And that is why I could shout "I'm so glad I'm Catholic."
Virgin Territory
airs at 11/10c Wednesday nights on MTV. The screenshot above is of the
Virgin Territory 
page at MTV.com.