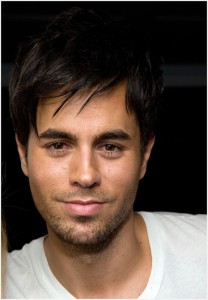 Last weekend, on my way to a church in Tampa, I decided I'd listen to America's top songs for the week on the radio. I don't like to admit it, but I'm a semi-closeted sucker for pop music and shows like Ryan Seacrest's are how I find new songs. But while I drove, I didn't discover my next embarassing mp3 purchase. Instead, I heard an interview with Enrique Iglesias after Seacrest played the vocalist's new song "Tonight." The chorus goes like this:
Here's the situation / Been to every nation / Nobody's ever made me feel the way that you do / You know my motivation / Given my reputation / Please excuse me, I don't mean to be rude / But tonight I'm loving you.

I have long had little to no reason to assume my value system meshes with that of any of today's pop song writers, so I was pretty sure "tonight I'm loving you" was pretty edited. In Seacrest's interview with Iglesias, I learned I was right. In the explicit version of the song, "tonight I'm loving you" is "tonight I'm f***ing you." Seacrest explored the effects of the song's shock value with Iglesias. He asked what the vocalist's family thinks of it. His grandma sings it around the house, he said. And his college-aged little sisters love it, and he's fine with that, he said, but on one condition.
"As long as no guys sing it to them."
While he's pretty clearly crackin' a joke, I am sure — as the sister of my own brother — he's only half kidding. And since I don't know Enrique, I also don't know how likely he actually is to go up to a new girl to say something like "By the way, I'll be f***ing you tonight." What I do know is that the song, like lots you'll hear on the radio, wraps a destructive message in a pop package. It permits the practice of lust which, in the words of Jason Evert, "can't wait to get" while "love can wait to give." And these songs, through speakers and ear buds, are delivered directly to a generation whose culture cares far more about making a profit than it does about a person's wellbeing. And the things done and said to get us to spend our money are so embedded in our culture that we see right past the ploy and buy into it.
This is why women buy tickets to see rappers like Eminem despite lyrics like "If she ever tries to f***ing leave again, I'ma tie her to the bed and set the house on fire." It's why there are more guys who objectify women than there are people who set them straight. It's why Enrique Iglesias, whether for real or solely in a song for profit, can sing a song that says "please excuse me, I don't mean to be rude" for treating a woman like she's a penis receptacle, and then say other guys better not do it to his sisters.
It is rude. And there is no excuse.