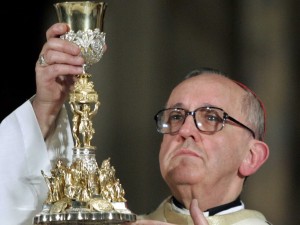 Pope Francis I
Mid-conversation with a client, I heard my phone vibrate from inside the big bottom drawer in my desk. When the client walked out of my office, I opened the drawer to see what the buzz was about.
An email from the Pope Alarm: "We have a Pope!"
A couple Tweets, one from Anthony and one from Sarah: "hurry get on Twitter! We have a pope!" and "New pope has been elected!"
A text from Kim: "Who's it gonna be? Hmmmm."
By the time I got to the messages, he already had given his blessing from the balcony. And since I learned of the white smoke that signifies our new pope, these have been my thoughts, in no particular order:
I want to cry a little (in a good way).
He's super cute!
He cooks for himself. Traded a palace for an apartment and a chauffeur for the bus. Pope Francis is my kinda priest.
I am moved by this: "I would like to give the blessing, but first – first I ask a favor of you: before the Bishop blesses his people, I ask you to pray to the Lord that he will bless me: the prayer of the people asking the blessing for their Bishop. Let us make, in silence, this prayer: your prayer over me."
John Paul II = JP2. Benedict XVI = B16. Francis = …F1? #CatholicProblems
I hope my colleagues enjoyed it as much as I enjoyed it when yelled "I HAVE A NEW POPE!" into the hallway at work.
I was stoked for the white smoke, but am even more stoked for future of the Church, now led by a servant-leader who – from day one – has asked us to embrace a life of love and fraternity.
Habemus papam. God bless Pope Francis!