For yesterday's Q&A, a woman asked why a guy flirts with a girl but doesn't attempt to pursue a relationship with her. Fellow blogger, folk music lover and chaste dater Jake Nelko weighs in today on what holds a guy up when he flirts but goes no further: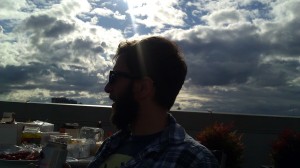 Jake.
Being a single Christian man who actively pursues romance, I am constantly faced with the conundrum of how to respectfully pursue women. If I see a cute girl in a coffee shop, for example, I am naturally interested in approaching her to strike up a conversation, learn that we like the same music, discover that she, too, loves Jesus, take her out for coffee (or caramels because it's arbitrary, right?), meet her parents, get married, and live happily ever after just like she potentially wants. So what holds us back? It could be a number of things.
First, does she actually want me to talk to her? This could be my lack of self confidence talking, but I'm not always sold on the potential of a conversation with the young lady in question being one that is welcomed. Unless she is giving me numerous glances and the occasional smile, I may not feel completely welcomed to the point of actually talking to her. I, like many men, am terrible with reading body language, so it's never my assumption that she wants me to do what I want to do unless glances and smiles are thrown right on target.
Second, respectable men try very hard to be respectable. We've been to plenty of bars, parties, etc. where we've seen the bros bothering women or at the very least approaching them in a way we don't see as respectable. We don't want to come off like them, with only sex or some other version of our own pleasure as our main motivation, so we tend to err on the side of doing nothing. We've heard from too many of our female friends that they get hit on when they don't want to and, therefore, we decide we want to avoid being another girl's story of annoyance. Let's do the polite thing and let the young lady get back to her copy of Jane Eyre and Bon Iver (she's wearing Toms, so she is probably listening to Bon Iver, begging the question again of why on earth am I not talking to her?).
Third, there may be intangibles. That gentleman may have a significant other at that moment and is oblivious to the vibe he may be putting off himself. He may simply have other interests in his life keeping him from feeling a desire to approach a new interest. He may have other things on his mind, but probably doesn't.
Fourth, sometimes it's just a game. We want to see what sort of flirting we can do in public without developing the obligation to do anything more. As a guy who has been on his own as a single man with plenty of married friends, it can feel good to just know that I still have it going for me; if I can still get a girl's attention, even if I don't necessarily want to talk to her or anyone, for that matter.
Honestly, I'd say my top reason is that I don't want to embarrass myself. My self confidence is already fragile, so the last thing I want is to let other people know what a spaz I am by talking to a girl, potentially embarrassing myself by saying something stupid, and never feeling like I want to go back to that place again for the rest of my life. Overdramatic, I know, but it's the truth.
My advice for the ladies is to be obvious. If women are looking for the respectable man who is not hitting on every girl he makes eye contact with, then the young lady will have to make it obvious to said respectable man that they should go outside of their norm to approach her. Give us a few looks, flash us a smile, make sure we can see your naked ring finger, and don't give us any doubt that our approach would be welcome. I could probably point out three girls in the coffee shop I'm in right now that have given me unclear enough signals that I wouldn't do anything even if I were interested in it at the moment. See the above for why.
If a girl is giving subtle or vague hints, they will attract men that jump on subtle or vague hints, like the aforementioned bros. On my end, though, do I want to approach a girl who looks like she's trying to attract the attention of every guy she makes eye contact with? Not really. I'm looking for the girl sitting in the corner with her thick glasses, skinny jeans, cardigan, and 400-page novel with her iPod in (hopefully listening to the Avett Brothers). Somewhere in the grey area of coffee shop interaction between completely confusing vagueness and completely impersonal and uninhibited flirting lies a scenario where I only end up speaking with a girl who is REALLY attracting my attention. Maybe, in the end, the ladies really DON'T want all of the guys they encounter to speak with them and we're all interacting the exact amount we're supposed to. Life doesn't always work out that easily, though, right?

– – – –

Jake, 27, lives in Tacoma, WA, while his heart resides in Pittsburgh, PA. He makes a living as a Career Development Specialist at the University of Washington Tacoma and spends his free time covering new music for Ear to the Ground Music, writing for his own personal blog, and playing drums for the gangster folk band Michelle from the Club.