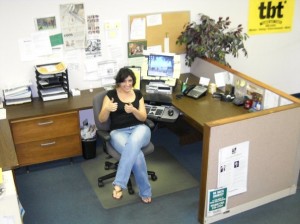 My desk from 2007-2009. So many memories. And thumbs.
On July 23 in 2007, I sat all day in the front of a Tampa newsroom, at an empty desk.
My desk.
My first day.
I answered phones. Typed calendar events. And I read the newspaper.
The newspaper.
Tampa Bay's best. Florida's largest.

And while I sat and talked and typed and read, I smiled and shook my head a lot. I thought I cannot believe I work here. But I did. And I do. And in a meeting at the Times last week, my editor gave a speech in my honor, and awarded me for five years (so far) of service.
Five years.
These five years have flown, as time does when you work where there's a friggin' Pulitzer Prize on the wall. Where I'm not the only one who wonders if we write because we're crazy or if we're crazy because we write. Where we get to tell stories and get paid to do it. Where there are always good stories behind those stories.
Since my anniversary in July, I have looked back on a lot of my stories. I've recalled how I stumbled upon them. And in honor of my first five years, here are five of my favorite stories behind the stories:
1. In granddad's steps:
It had to be 10 a.m. before I pulled up to the office and parked. I had hit the snooze a time or two too many. On my short walk from the car to the office door, I crossed paths with young adults on bikes. They circled the lot and I smiled. Something inside me said talk to them. I ignored it.
From my desk inside, I could see them. Four or five in all, they laughed and talked and did tricks across empty parking spots. Something inside me still said talk to them. Fine. I grabbed a business card and a pen, and walked to the lot to say hi. "We're siblings," they said. Which is when I recognized one of them. "Nate," I said. "Nate Young. From Anberlin?" Anberlin is a band – one of my favorites in high school – and Nate, one of the guys on the bikes in the lot that morning, is its drummer. "I remember you," he said. I had interviewed him before. And then his sister and I started to talk.
Athletic though their grandfather was, his 83-year-old body couldn't always do what he wanted it to. So he had planned to run his final 5k. And his seven grandchildren – most of whom I met in the lot – had planned to run it with him. "I think that might be a story," one of them said. And I said, "I think you might be right." And she was. Read it here.
2. Behind the mask, Michael Myers is a pretty nice guy:

Browsing Craiglist in effort to help a friend find a job, I stumbled upon this ad:
"I need a hearse to pick up Michael Myers from the airport."
He couldn't mean that Michael Myers. Or could he? I clicked it.
As it turned out, Tony Moran – the actor who played Michael Myers in Halloween and Halloween II – had planned a trip to Tampa. And the filmmaker who planned to pick him up at the airport really wanted to do it in a hearse. I responded to the ad, pitched an idea in a staff meeting and shortly after, spent an hour on the phone with the guy who made one of my favorite horror movies famous. Click here to read the Q&A.
3. From show-off to stunt driver:

Desperate one day for story ideas, I reached out to a handful of friends. "Anything good going on in Tampa?" Friend and fellow blogger Sarah said she stumbled upon a story in our paper, about a flick filmmakers were shooting in South Tampa. She noticed, she said, that a stunt driver in it lived in North Tampa, which was the part of Tampa my bureau covered. "You've got a really good eye for stories," I told her. And then I tracked him down.
He and I met up twice – first at his house, his leg in a cast after he broke it in a crash on a track. And second, at a stunt show, shortly after the cast came off. A super cool guy. Here's the story.

4. R.L. Stine got a generation hooked on reading with his scary Goosebumps series: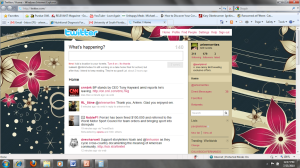 My good friend Kim and I searched her closet. "I know I still have some of them," she said. And then, she found them. A stack of Goosebumps books, a series she and I loved as kids, written by R.L. Stine. We read part of one aloud, and oh, how it brought me back.
To reading Goosebumps by flashlight under the covers (and leaving the hall light on so I wouldn't be scared). To being inspired by Stine's stories to write my own. When I got home that night, I searched for Stine on Twitter. When I found him, I tweeted him thanks for all he'd written. In the morning, he tweeted me back. I will neither confirm nor deny that I hyperventilated.
But I tweeted again. "Can I interview you? Email me!" And he did. Yada yada yada, we talked. I call him Bob now. And we met face to face at the Times Reading Festival, shortly after what I wrote about him – which you can read here – appeared in print.
5. 9/11 firefighter went in without delay:

I sat at a desk in a high school classroom, across from the teacher who, in the hall on my way to his room, had mistaken me for a student. (He saw my press badge a second before he would have asked to see my hall pass.) His students were the artists whose work, created in honor of the first responders who died on 9/11, would be on display at a museum in Tampa. He told me how proud he was of the kids. How profound their artwork was. How he had invited a 9/11 firefighter to see it.
To see it? "So this firefighter," I said. "He's local?" And indeed he was. I wrote one story – about the artwork – and it ran. But the teacher put me in touch with the firefighter, who is retired now, as a result of lung damage he sustained while he dug through World Trade Center debris for bodies. He and I spoke several times, over the phone and face to face. He told me stories. What he could see, smell and taste where the buildings collapsed. What it's been like to see what he saw that day, in his head every day in the 10 years since. Click here to read what I wrote.