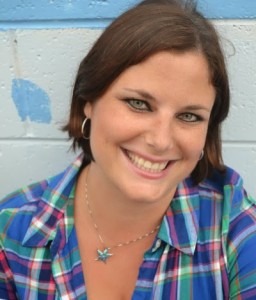 3 Lessons and 2 Tips is a series of interviews in which some of my favorite people (and probably some of yours) share three lessons they've learned by being married, plus two tips for single people.
This edition features Renee Fisher, "an adoring wife to Marc and mom to their pit bull named Star. She is the author of four books, including Forgiving Others, Forgiving Me (Harvest House, 2013)." Renee is also the editor and founder of DevotionalDiva.com, and loves nothing more than to spur others forward. She is the creator of Quarter Life Conference, a graduate of Biola University, and a spirited speaker and author to the 30-somethings. She and Marc have been married since Oct. 15, 2011. I'm excited she'll share three lessons and two tips:
How did you meet your husband?
I met Marc at my parent's house. This was nothing short of a miracle because growing up, my mom always told me not to search for my husband—that he'd come to me. I didn't realize this would literally happen. I was co-leading a growth group at my parent's house through my church and he joined last minute. It was definitely a God thing because it was meant to be!
What's the first lesson you've learned in marriage?
It's okay to be hungry. I actually wrote about this for StartMarriageRight.com about a month after I was married. After I woke up from the Turkey induced coma of Thanksgiving, I realized that only God could fill my loneliness. It's OKAY and NORMAL and perfectly HEALTHY to hunger and thirst for God first before your spouse. In fact, God designed it this way.
And a second lesson?
My identity is not in my spouse (or my job). I didn't get married until I was 29, and one of the things I've had to learn is the things I put in place of my identity. First, it was my job. Now I find myself easily doing this with my husband. Thankfully, we are both very independent and it's not as easy to do this with my marriage yet. However, I know this is a lesson I will be learning and re-learning.
And a third lesson?
I took the first year of marriage off from speaking. I focused all my efforts on learning how to be a wife during the first year, and I am so glad I did! During this time I was able to get healthy, go back to the gym, weed through some difficult friendships, and finally finish a book I had been working on getting published for many years. I think our culture is so obsessed with fast results that we don't take the time we need to really learn how to live. I'm so glad I took the time to enjoy my husband because I prayed so much for him. It was a blessed year.
What's one tip for readers who are single?
"The One" will never be as important as Jesus. I used to dream of the day I'd get married that I'm glad God allowed me to wait until He burst every naïve bubble I had of marriage. Marriage is NOTHING like I expected but everything I need it to be.
And a second tip?
You really can wait for marriage for sex. If you listen to anyone but Jesus you will fail. Even if you do fail, it is possible to try waiting again. Don't beat yourself up.
– – – –
Connect with Renee at ReneeFisher.com.