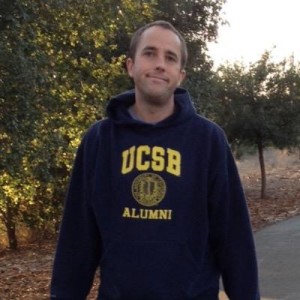 3 Lessons and 2 Tips is a series of interviews in which some of my favorite people (and probably some of yours) share three lessons they've learned by being married, plus two tips for single people.
This edition features marriage and family therapist Tommy Tighe, who married his wife on Nov. 3, 2007 and sometimes gives me awards on the internet (Exhibits A and B).
Tommy is a father of three and the creator of The Essential Catholic Hipster Survival Guide — a "silly little blog." He is gracious today to share some lessons and tips with us:
AS: How did you meet your wife?
TT: We met through a mutual friend while attending UC Santa Barbara (Go Gauchos!). When I look back on those days, I'm sure that God was involved in bringing us and keeping us together, because I was not the kind of guy an amazing girl should have stuck with.
AS: What's one lesson you've learned in marriage?
TT: Don't be content with just giving your spouse the "leftover time." It can be so easy to come home from work, take care of the kids, clean the house, watch TV, and only give your spouse that tiny 10-minute window right before bed — but don't fall into that trap. Outside of your relationship with God, your spouse is your No. 1 priority. Giving your relationship the priority it deserves helps everything else fall into place.
AS: And a second lesson?
TT: I know this is hard for a lot of folks to hear, but, stop contracepting! When my wife and I finally came to this understanding, our lives were dramatically changed. Giving up the control we thought we had freed us to love each other the way we promised we would when we stood before the altar on our wedding day. By making that one change, we began to see the love that God calls us to, and we began to appreciate each other, sacrifice for each other, and unify with each other in ways we couldn't have imagined before.
AS: And a third lesson?
TT: Annoyances = sanctification. Our spouses are here to help us get to heaven. Contrary to what we might want, the way they achieve this goal is not by making our lives easy and painless. Instead, our spouses give us unlimited opportunities to choose love over frustration, selfishness, and resentment. It's easy to love when you feel loved and everything is going along great — there's no sanctification to be found in that.

The real meat and potatoes of marriage making us holy is when we feel so angry and frustrated that we just can't even imagine reaching across the bed even to touch the person on the other side, but we do it anyway. That's love, and that's powerful.
AS: What's one tip for single readers?
TT: Take the time to learn what the Church actually teaches about marriage, love, and all that comes with it. Seriously! I never picked up a Church document until I already had been married for three years, and it changed my whole outlook on marital love and my vocation as a husband and father.

I sit back and wish I would have learned about what the Church teaches before I got married so that I really would have been prepared right off the bat. If I would have, I'm sure I would have been able to avoid a lot of the lame pitfalls that newlyweds so often fall into. Believe me when I say: what the Church teaches about marriage will blow your mind.
AS: And a second tip for single readers?
TT: Remember that God has a plan for all of us, and it typically isn't the plan we would craft for ourselves. When you're single, just like when you're married, you can often find yourself looking up and saying, "Come on God, why are you doing this to me?!" It is so important to remember that God knows exactly what you need, when you need it, and all He's asking from us is to trust Him, and to respond with a great big "Yes!"

That's easier said than done, but whenever I have a hard time with this, I like to remember the fact that God sits outside of time and sees all of eternity happening in one present moment. The fact that He knows everything that is going to happen, every choice I'm going to make, and every relationship I'm going to be involved in, brings me a peace and comfort that I could never have without Him.
[callout]Bio: Tommy is married to 'a wonderful wife, has three amazing boys five and under,' and, in December of 2014, started The Essential Catholic Hipster Survival Guide. He recently started writing for CatholicMom.com, which goes to show what a great sense of humor God has. When people find out that he is a marriage and family therapist, they inevitably say something to his wife like, 'Wow, he must be such a good listener.' She typically responds by laughing out loud. Connect: Follow Tommy on Twitter.[/callout]