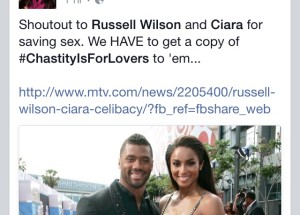 Over the weekend, Russell Wilson, the Seattle Seahawks' quarterback, sat on stage at a church for a conversation with the congregation's pastor. During it, he admitted: he isn't sleeping with his girlfriend.
That's a big deal, according to MTV, and to people who practice chastity, to Seahawks fans and Ciara fans (she's his girlfriend) — all, of course, for different reasons.
News of the couple's decision to abstain from sex while they date quickly spread. When I heard, I gave 'em a shoutout on social media.
Some people who saw what I posted praised the couple's decision. Others called the couple out.
Ciara has a kid, for instance, and doesn't always wear a lot of clothes. Russell Wilson is divorced. This, some readers suggested, is evidence that Russell and Ciara don't deserve to be role models for chastity.
As if somehow a person's past determines whether a person's example is good, as if the virtue of chastity ever holds the past against a person (it doesn't). 
My friend Leah Darrow eloquently responded:
Anytime Hollywood chooses to highlight someone's virtue, we should be happy — that rarely happens. I'll be praying for them. …Which we ALL should do instead of calling out Ciara's lack of modesty or bashing her for her conversion back to virtue, even if it occurred after the birth of her son.

The fact that Ciara is embracing chastity will hopefully be the first step in practicing all other virtues. Everybody starts somewhere. It's not that I find her outfit modest (I don't), but what is truly immodest are comments that lack mercy and humility. Give the girl a break, pray for her and thank God for His grace in all of our lives.
I'd like to respond, too:
Part of the beauty of chastity is that it doesn't hold our pasts against us. It equips a person to start today — that is, to start abstaining for good or abstaining 'til marriage — despite what happened yesterday.
Anybody who practices chastity can be a role model for it — we don't get to decide whose example is fit and whose isn't to be the catalyst for another person's conversion. God doesn't fit in that box. So I'm with Leah: everybody starts somewhere.
And if we devalue a person's journey to Christ (or its impact on others) because of when or how it started, we have overstepped our bounds.
[callout]New to my work? Click here to learn more about my book, Chastity Is For Lovers: Single, Happy, and (Still) a Virgin. Click here to see some popular posts.[/callout]