[callout]This post is part of a monthly series called PRIESTS & NUNS ARE COOL! in which I interview a priest or a nun about his or her vocation — and about how adults who haven't discerned a vocation yet can discover their own. This edition features Sr. Theresa, a Daughter of St. Paul who lives in Miami.[/callout]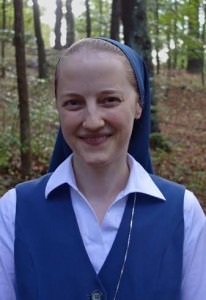 Sr. Theresa Aletheia Noble, who professed her first vows as a Daughter of St. Paul earlier this year, used to be an atheist.
Now, she is author of the book The Prodigal You Love: Inviting Loved Ones Back to the Church, a guide for Catholics who have loved ones who have left the Church and an interest in inviting them back. Sr. Theresa spends time talking to parish groups about the book and helping people apply what she wrote in it.
She describes her life as apostolic and contemplative, busy but peaceful. She lives in a convent in Miami, evangelizes in a Paulinas bookcenter, drinks café cubano, bakes bread, and blogs. She is gracious to discuss her vocation for this series, and to tell us how an adult who doesn't know his or hers yet might discover it:
When you were a kid, what did you want to be when you grew up?
I couldn't think of an answer to this that was not poke-your-eyes-out boring.
When did you decide you would become a nun?
I decided I would become a nun about four years after living in the convent.

I am not one of those people who dreamed of religious life since I was young. This was all God's idea. At first, I just reluctantly went along for the ride. But finally, after much wrestling and resistance, I freely and joyfully embraced God's plan for my life.

I was never really certain I would end up going through with making vows until a moment of grace in the months preceding my first profession. I was struggling because I knew God was calling me to religious life but I did not feel the grace to accept his invitation. I was reaching a point of near desperation because I needed to make a decision. But then, a Scripture passage came to my mind. It is from Exodus, when Moses is speaking to the Israelites. He says, "The Lord will fight for you; you have only to keep still" (Ex 14:14).

So I kept still, I stopped obsessively searching, I stopped thinking about my discernment, and I just tried to relax. Then, one day I was reading Scripture in my prayer time and the Lord gave me the grace to move forward. My vocation depends entirely on God's grace and his Word was very often a vehicle for that grace.
How did you know you were called to be a nun?
I was away from the Church for over ten years and was an atheist for most of that time, so it obviously never occurred to me that I would ever consider religious life. Even when I returned to the Church, it was the furthest thing from my mind. Then, one day I was sitting on a subway train in San Francisco and I saw a sister out of the corner of my eye. I turned and the person I thought was a sister was just an ordinary woman like me, making her way to work. This kept happening, over and over again. It didn't take very long for me to wonder, "Does God want me to become a nun?!"

When I get to heaven, I think God is going to give us the option of rewinding our lives to see important events. This is one of the moments I want to see. I am sure the look on my face was priceless. I was shocked, angry, and intrigued all at the same time.

A wise priest suggested to me at the time that my "hallucinations" simply meant that God was asking me to discern religious life. This was true. But deep down, I think I knew, even in that moment, that God was calling me to religious life. It took me several years to admit this and several more years to accept the invitation, but that was the beginning of it all.
What's the best part (or the best parts) of being a nun for you?
Everything I do is united to God. I have given him everything; my talents, my health, my youth, my dreams. Now, I believe that everything I do is charged with the power of being consecrated to God. I trust that my "Yes," just like Mary's "Yes," is a great antidote to evil in the world. And I believe that, through God's mercy and the power of Jesus' death, my consecration can be a means to draw down many graces — for myself, for my loved ones and for the entire world.

Not to mention, I feel like I am living an adventure with Jesus. I am not in charge of my life's adventure, but that is okay because an adventure I am in charge of is not really much of an adventure.
What should a young adult do who still isn't sure what his or her vocation is?
If you are still not sure what your vocation is, I would suggest contacting priests and religious in your area so you can spend time with them. It sounds like ho-hum advice, but this is really the only sure way that you can know if the life is for you. Giving discernment the time it needs is important.

It is also really important to relax. So often I see young people wrapped up in a ball of stress about their vocation. This happened to me. But we have to remember that God is in charge. He is good.

However, it's hard for God to get through to us if we wrap ourselves in our anxiety rather than his love. Stress keeps us from hearing God and from receiving the graces we need to respond to his invitations.

Also, it's all right to be indecisive but sometimes I think uncertainty in discernment can be a defense mechanism. Sometimes we have a pretty good feeling God is calling us but we are not yet ready to say "yes," so we say, "I am not sure what God wants." I did this – it's okay, it's human. When we are feeling defensive though, I think it's important to remember that God invites people to the priesthood and religious life; He is not a general giving an order.

I think deep down, many of us do not trust God, so we think he will punish us if we choose married life over religious life. I don't think this is true. I think it needs to become okay to admit to ourselves or even say to others, "I think God is inviting me to religious life but I am not sure I want to say yes."

If God invites a person to religious life it is because he knows it will make them happy. However, if a young person chooses not to accept the invitation, I don't believe God would ever prevent that person from finding happiness in serving him another way.

God is powerful and so good. So, relax, take time, and try to be honest with yourself, with others and, of course most importantly with God so he can help you exactly where you are.
[callout]Connect with Sr. Theresa: Sr. Theresa is on Twitter, Instagram, and Facebook. She blogs at Pursued by Truth. If you are a discerning woman in South Florida, get in touch with her. Click here to read the previous post in this series: PRIESTS ARE COOL | Fr. Victor Amorose edition.[/callout]