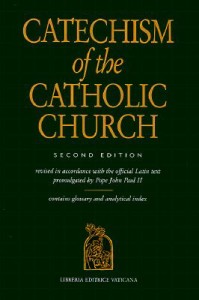 A thousand pages of awesome.
It's with delight and excitement that I report the following:
YOU CAN GET THIS BOOK EMAILED TO YOU.
As part of the Roman Catholic Church's impending Year of Faith, @CatechismAPI has partnered with flocknote.com to deliver the entire Catechism of the Catholic Church to your email inbox.
If you aren't Catholic, but you've wondered what exactly it is that the Catholic Church teaches, this is your most convenient chance. And if you're Catholic, how big this book is might concern you (mine's about a thousand pages). But if you sign up, you'll receive only a little of the book at a time, in one email a day from Oct. 11, 2012 through Nov. 24, 2013.
I signed up. Will you? Click here.