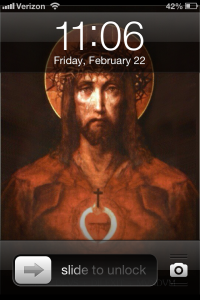 Thanks for the wallpaper, Ryan!
I lifted the lid off the top of the iPhone box the December day the FedEx guy delivered it.
THIS IS NUTS, I thought, that I, Arleen Spenceley, faithful flip-phone owner, master of fasting from modern technology, consistent resister of smartphones…
owns one.
I felt weird. Cautious, even. Caught between one conviction (that smartphones make us stupid) and another (that not owning one could compromise my career).
But I plugged it in. Slid to unlock.
And as fast as I opened the box, I forgot life before my phone.
It's efficient, and magic, and there are all kinds of fabulous apps. In the months since I got the phone, I have browsed for good ones, and stumbled upon five free ones worth sharing with readers (especially if you're Catholic!). They are these, in no particular order: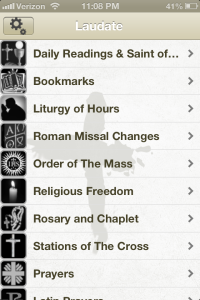 Laudate


Laudate: BEST. APP. EVER (despite that I just said these are in no particular order). Daily readings (in print and via podcast), the rosary (including the beads), the entire Bible, the entire Catechism, every Catholic prayer you can think of, a bunch of Catholic prayers you haven't heard of, and Vatican documents. #boom.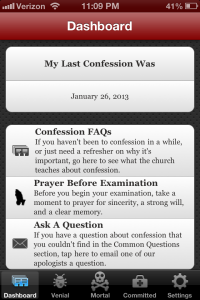 Mea Culpa
Mea Culpa Pro: Because being able to say "bless me Father, for I have sinned. My last confession was January 26, 2013" is awesome, so is this app. Use it to track your last confession (and never forget how long it's been), and to examine your conscious in depth, commandment by commandment, for venial and mortal sins.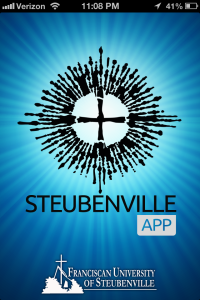 the Steubenville App: This is like a Steubenville conference in your phone. Browse video, audio, and blogs; see a schedule of upcoming conferences (and watch vids of talks from old ones).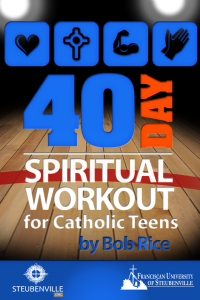 40 Day Spiritual Workout for Catholic Teens: I'm not a teen, but I'm surrounded by 'em six days a week. This app, written by professor, author, musician Bob Rice, is fuel for forty days. Each "workout" includes a short Scripture reading, a reflection, and a prayer. Set a reminder for the part of your day when you most could use a couple extra minutes of prayer.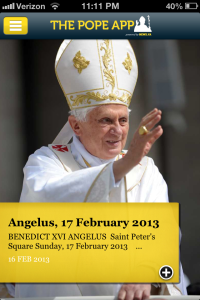 The Pope App: This app's close to due for an update (and my hunch is it'll tell me first when we have a new pope). Watch the pope speak live, read his homilies, and watch live webcams of Saint Peter's Square, Blessed Pope John Paul II's tomb, and St. Peter's Basilica.
What are your favorite apps?