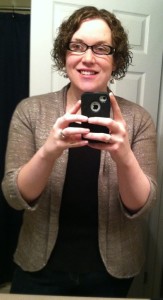 Guest blogger Olivia!
As a child, I knew my parents were different from other parents. They slept in separate rooms because my dad had violent nightmares. My mom worked first shift, my dad worked second shift. They rarely showed affection for one another. Their marriage was the second for each of them, and I think this gave them a little experience to build their own marriage on.
When I was a teenager, I never wanted to get married.
I was a very independent child, so I told myself that I didn't want my independence taken away. I never went on dates in high school. I had no confidence, so I figured no one would want to be with me. I'd see the heartache and hear from my girlfriends about problems in their relationships. I assumed all relationships were like that, and I didn't need that. More than anything, I saw the relationship my parents had, would compare it to the relationships of my friends' parents, and realize that whatever my parents had together was not something I wanted.
But in my second year of working toward my undergraduate degree, I met a man like no other. He was hilarious, generous, and so very kind. Two weeks after our official first date, I knew I would marry this man. I told my mom this and she was shocked. She'd say to me, "You want to get married? You always said you never wanted to get married," when I would brag about this wonderful man.
We got married in 2007 and enjoyed a brief honeymoon period (without ever taking a honeymoon) before life went back to normal and reality set in. We'd have our disagreements, calm down, and work things out. And then life threw us one curve ball after another: job loss, extended unemployment, moving in with family to keep a roof over our heads because of unemployment, health scares, no money… you get the picture.
Through all of these trials, we would lash out at each other whenever the stress levels reached a tipping point. We have had such horrid arguments that we even have uttered the d-word. I have caught myself saying something to my husband that sounds exactly like something Mom would have said to Dad in the middle of a disagreement. I have had that moment in which I realize I'm very much like Mom, and then I try to correct my behavior.
I remember the d-word being discussed lightly between my parents when I was in high school. Miraculously, when I moved out to go to college in 2004, my parents' marriage improved. But Dad suddenly passed away in 2009, leaving my mom widowed and lost. It was hard to watch Mom begin to navigate the world without Dad. As time has gone on and we reminisce about all the wonderful times we had with Dad, Mom would echo the same sentiment about him: "Things were rough, and we had some horrible times, but I would never trade in a moment with that man."
My parents were knocked down by difficult trials and faced many dark days in their relationship. Through the dark and the light, one thing stayed constant: They did it together. They stuck by each other through everything. I think of all my parents went through when I was child, and while I remember some of the arguments, I rejoice in now being able to comprehend how they came together to handle whatever situation they faced.
Marriage is one of the most difficult "things" I've ever had to do. It requires time, patience, nurturing, love, humility, respect, and humor. I'll admit it: Marriage is hard work. It's not for the weak. There are rough times where you just don't have the energy to look at your spouse because of some idiot thing they've said. There are times you're so embarrassed by something you said or did in anger that you can't even look at yourself. But those beautiful times, those times you realize where you've come from and what you've gone through together, make that hard work so worth it.
My parents had a very unconventional marriage, but it was their marriage. My husband and I have a different marriage, and it's OUR marriage. Give your marriage everything you've got. When things get tough, just keep fighting. It's absolutely worth it.
– – – –
About the blogger: Olivia Hattan-Edwards is a native Floridian who lives in the mountains of north Georgia with her love, Richard, and their two cats, Humphrey and Bogart. Olivia is the youth services coordinator for a public library and is currently working on a master's degree in Library and Information Science. Richard works at a public high school and is involved with high school athletics. In her spare time, Olivia enjoys reading YA literature, shopping at thrift stores, and supporting Richard at whatever sport is currently in season. She recently launched a new blog, Bookmarking Life. Olivia and Richard have been married for five and a half years.