[callout]This is a guest post by my good friend Mark LaBelle, a seminarian for the Diocese of Orlando.[/callout]
Attraction is a funny thing. It can come out of nowhere and leave us totally dumbfounded. Consider, for example, one of the most iconic bossa nova songs of all time: "The Girl from Ipanema."
It's by Tom Jobim, originally written in Portuguese and famously performed in English by Astrud Gilberto with jazz saxophonist Stan Getz.
It's a beautiful little tune, but the English lyrics are a bit… creepy. Consider the 1967 recording, in which a then-52-year-old Frank Sinatra croons, "Tall and tan and young and lovely / The girl from Ipanema goes walking / And as she passes, each one she passes goes, Ahhh!"
[youtube id="U4mCzmNDEIk"]
Yikes. Cool it, Blue Eyes.
In both the Portuguese and the English versions, the song changes moods about halfway through when the singer laments his own loneliness. The English version is particularly depressing: "Ah, but I watch her so sadly / How can I tell her I love her? / Yes, I would give my heart gladly / But each day, when she walks to the sea / She looks straight ahead, not at me."
The brief song then ends where it started, with the original melody but with the fresh wound of loneliness still stinging: "She's tall and tan and young and lovely / The girl from Ipanema goes walking / And when she passes, I smile! But she doesn't see…"
Don't feel too bad for this guy. He thinks he deserves a girlfriend, and we don't even know anything about him.
Now consider the original Portuguese lyrics, penned by the Brazilian poet Vinicius de Moraes. These lyrics take the same premise—guy sees a beautiful woman at the beach, becomes filled with bittersweet longing—but they develop it a bit differently:
Ah, porque estou tão sozinho [Oh, why am I so lonely?]
Ah, porque tudo é tão triste [Oh, why is everything so sad?]
Ah, a beleza que não é só minha [Oh, the beauty that is not only mine]
Que também passa sozinha [That also passes by alone]
Ah, se ela soubesse que quando ela passa [Ah! if she only knew that when she passes by]
O mundo inteirinho se enche de graça [The whole wide world is filled with grace]
E fica mas linda por causa do amor [And becomes more beautiful on account of love]
In contrast to the fleshiness of the English lyrics, there's something almost mystical going on here. In the original lyrics, the singer isn't self-absorbed in his own heartache. He recognizes that not only does the young woman not owe him anything, but also she has her own needs and dignity. She experiences loneliness just like him.
Once he sees this, it's not about him anymore, and yet it is. He recognizes that the young lady reflects beauty so much that she has the power to change somebody's life for the better just by walking by. Rather than dwelling on this emotion for his own pleasure, the singer reflects upon it as the mystery it is.
These two versions of the same song illustrate to me the divine insanity of attraction and how we can respond to it. We can't always predict who will stir up the emotions of longing within us or when it will happen next. And even when we do recognize the sudden onset of romantic interest in another, we hardly know what to do with ourselves! "What is life? What is happening to me? I don't know, but I have to tell somebody. I have to tell EVERYBODY."
Could it be that the divine spark of attraction is a glimpse of heaven?
One of the great (and terrible) things about being a Christian is that we are called to love every person we meet, whether we're attracted to them or not. What's the best way to love someone who is attractive but not someone with whom we should become romantically involved? We can brood in our loneliness and torture ourselves by wanting what we can't have, or we can give thanks for the divine insanity of attraction. Same melody, different words.
About the blogger: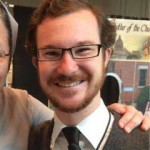 Mark LaBelle is in his fifth year of priestly formation for the Diocese of Orlando. He has a BFA in music education from the University of Florida and a B.Phil. from St. John Vianney College Seminary in Miami. He is currently in his pastoral internship year at Holy Redeemer Catholic Church in Kissimmee, FL. You can follow him on Facebook, Twitter and Instagram.