[callout]This post is an excerpt from the introduction to my forthcoming book, Chastity Is For Lovers: Single, Happy, and (Still) a Virgin, (Ave Maria Press, 2014).[/callout]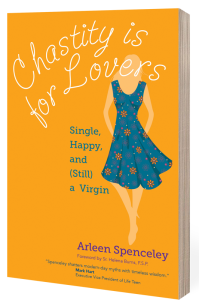 I rested my head on the tall back of a black vinyl, executive-style chair and stared at a computer screen. The chair's wheels rolled audibly across the mat beneath it as I—a staff writer for the Tampa Bay Times—reached toward the desk in front of me to type.
The e-mail, addressed to an editor named Jim, expressed my sudden reluctance to do what I already promised I would: write about sex. A week earlier, I had pitched the idea to Jim with confidence: a sex essay for the front page of the "Perspective" section of the Times, inspired in part by the demise of a bad relationship.
The day I pitched it, how many readers we had—more than four hundred thousand on Sundays—hadn't dawned on me. When it finally did, all that had been bold in me got anxious. I—a budding columnist, a practicing Catholic, and a virgin by choice—had a passion for putting what I believed in print. But that morning, the thought of revealing my virginity to the secular public sounded like a bad idea. I so warily considered the potential repercussions—unwanted attention, unsafe situations, and uncomfortable colleagues—that I forgot why I pitched the idea in the first place.
Days before Thanksgiving 2008, the clicks of my heels echoed as I crossed the terrazzo floor in a Tampa church's hall. I carried a press badge, a pen, and a reporter's notebook up to the woman in charge. I had come from the newsroom to be a fly on the wall for a story about four church groups—one Lutheran, one Catholic, one Methodist, and one Reformed—that distributed food from a pantry to people in need, three days a week. The woman covered her faded jeans and her heather-gray sweatshirt with a hunter-green apron. It is through her that I met him.
He unfolded a chair for me next to his under an awning at a table on the sidewalk. He was twenty-seven and handing out socks and sandwiches to homeless people. I was twenty-three and instantly smitten. I watched him work and took notes for the story. I never did write about him. I did, however, sooner or later date him.
One afternoon, we sat side by side, cross-legged on a futon mattress on the floor in his apartment. We leaned against the lime-green wall behind us and talked and laughed. Then I asked the question.
"What crossed your mind the first time you saw me?"
He turned toward me, thoughtfully paused, looked into my eyes, and smiled before he spoke.
"I want a piece of her."
This ultimately did not end how he hoped it would.
[callout]Chastity Is For Lovers is on sale Nov. 28. Click here to pre-order it.[/callout]