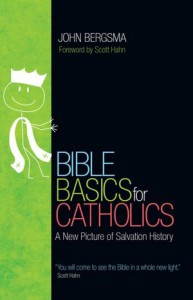 A week ago, at a Life Teen core team* meeting, each core member received a copy of Bible Basics for Catholics: A New Picture of Salvation History by John Bergsma, a convert to Catholicism, biblical scholar and professor at Franciscan University of Steubenville. As of tonight, it's the nineteenth book I've read in full in 2012.
The book is, in Bergsma's words, "a whirlwind tour of the biblical storyline." The author draws out the Adamic, Noahic, Abrahamic, Mosaic, Davidic and new covenants (figuratively, but also literally, using stick figures) and ties them each to each other and to what he calls the Eucharistic covenant (which is the new covenant. "However," Bergsma wrote, "for the sake of learning salvation history, I like to call it the 'New' when it's being prophesied and 'Eucharistic' after its fulfillment.").
The book is equal parts incredibly easy to read and incredibly informative. And I may or may not have thrown a fist in the air in a fit of joy and shouted "boom shocka locka" when I finished reading the part about what Jesus did for us. How awesome is He? Just sayin'.
Here are some of my favorite excerpts:
On each of the covenants to be discussed in the book:
"When the priest prays at mass, 'Time and again you offered them covenants,' it means, 'God repeatedly tried to make us his family.'" -page 4
On the arrival of woman:
"The Bible tells us there was found no 'helper fit for (Adam)' among the animals, so the LORD put him into a deep sleep and made the woman for him out of his rib. The next morning when Eve was brought to Adam, he bursts out in rather nice poetry:
Bone of my bone and flesh of my flesh, she shall be called woman, because she was taken out of man.
Some consider this to be the first poetry found in the Bible. Through it, we see the civilizing effect that Eve has on Adam. Up to this point, he's just been sitting around naming animals: 'Dog!' 'Ape!' 'Salamander!' Now he sees this woman, and he becomes the Bard, belting out sonnets in iambic pentameter (well, not quite, but you get the point). Perhaps the author wants to point out that the arrival of woman is a high point in God's creation, and that woman brings out the best in the man." -pages 23-24
On Adam's roles:
"This gives us our final portrait of Adam according to Genesis 1-2: firstborn son, king, priest, prophet and bridegroom.
So what's the point? Why bother talking about Adam's roles? We began this chapter with the question, 'What is the meaning of life?' What is our purpose here on earth? The Bible addresses this question in the first chapters, by painting a picture of Adam that is a model for every human being. All of us are called to be sons (or daughters) of God, and therefore kings (queens), priests, prophets, and bridegrooms (brides)." -page 25
On sin:
"…the line between good and bad does not run cleanly between groups of people; it runs down the center of each person. Sin has infected every human being. St. Paul puts it like this: 'All have sinned and fallen short of the glory of God' (Rom. 3:23)…" -page 44
On the significance of the Temple:
"For the ancient Israelite worshiper, the importance of the Temple can hardly be overemphasized. The Temple was a standing reminder of the covenants with Adam, Noah, Abraham, Moses and David. It summed up all salvation history and represented all God's relationships with his people. There was nothing greater than the Temple except God himself. Many years later, Jesus will describe his own presence by saying, 'Something greater than the Temple is here' (Matt. 12:6). When we understand how great the Temple was, we realize Jesus was claiming to be God." -page 106
An important comparison between Jesus and Isaac:
"Calling Jesus 'the Son of Abraham' sets up a comparison between Jesus and Abraham's son Isaac. The parallel is strong, especially when we think of the most important event in Abraham and Isaac's life: the near-sacrifice on Mount Moriah. We have already discussed how this was a 'mime' of Calvary: the one-and-only-son carried the wood of his sacrifice up the mountain, where he is laid on the wood and offered to God out of love for his father." -page 132
A summary:
"At the end of this book, we can now make a summary of the message of the Bible: the sonship Adam once enjoyed with God has been restored to us by Jesus Christ. Just as God breathed the 'breath of life' into the nostrils of Adam and made him a living being, so through baptism Jesus shares with us the 'Spirit of Life,' the Holy Spirit that makes us living children of God." -page 154
And back to Adam's roles and what significance they have for us:
"Our faith teaches us that, as children of God through Christ, all the rights and privileges of Adam have been restored to us. Like Adam, we can call God 'Father' (Luke 3:38). As royalty, we rule over our passions and possessions, rather than being ruled by them. As prophets, we speak God's word to the people around us. As priests, we offer our very lives on a daily basis, as a 'living sacrifice' for the salvation of the whole world. Finally, as grooms and brides, we find our love and joy in embracing our true Spouse every time we come forward to receive communion." -page 155
– – – –
Click here to learn more about Bible Basics for Catholics.
* The Life Teen core team is the group of adults who help the youth minister at church run our youth group. I joined the core team this summer. Click here to see how awesome our teens are (and click here to learn more about our ministry).