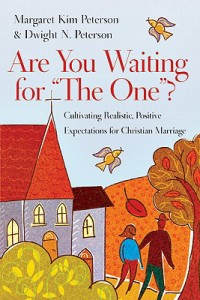 I'd kind of like to invite Margaret and Dwight Peterson to dinner at my house. We'll have chicken parm, play a little Jenga and when the opp arises, I'll thank them sincerely for their book.
Are You Waiting for "The One"? Cultivating Realistic, Positive Expectations for Christian Marriage is the ninth book I've read in full in 2012. It is a refreshingly realistic exploration of friendship, love, sex, marriage and family that challenges the status quo set by the world (which, as the Petersons point out, is often unwittingly perpetuated by Christians).
In many Christian books as in many Christian churches, important stuff like sex and gender and dating is broached only superficially. What those Christian books and those Christian churches don't get is that it does serious damage to consider topics taboo that ought to — nay, must — be discussed deeply. The Petersons get it. And that is rare, and therefore, delightful.
Some of my favorite excerpts:
On hooking up:
"It is difficult to believe, however, that the hookup culture is anything but bad for anyone, male or female. The more casual sexual behavior becomes, the less it serves to deepen existing intimacy and the more it becomes a substitute for and even an impediment to intimacy." -page 14
On real love: 
"Real love grows through use. You do not have to worry that if you spread it around, you will run out. Nor do you have to worry that if you enter into an intimate friendship with someone whom you do not end up marrying, that person will abscond with part of your heart and there will be less of you than there was before. If you hope to marry someone and do not, of course you will be disappointed. But a great deal of the pain of heartbreak comes not from disappointment in love, but because partners have not, in fact, treated one another lovingly. If you and your friend really do love each other, and really do treat each other well, you will grow in and through the relationship, whether or not it moves toward marriage." -page 27-28
"Real love develops into deep, meaningful intensity. It does not start with it. The time to look for sparks to fly is after you know one another well enough actually to mean something to one another." -page 27
On conflict, mutual submission and gender:
"Conflict avoidance is not conflict resolution, however much we might like it to be." -page 81
"Mutuality takes time. It takes effort. It takes a willingness to talk with one another and listen to one another, for long enough that it can become clear what the issues are, what the feelings and desires of both spouses are, and what some possible plans of action might be. Headship as decision making, by contrast, can seem quick and easy and far less personally demanding. Husband and wife don't really even have to work together: he just does his job and decides, she does her job and goes along, and they're done. And that is exactly the problem. They haven't actually dealt with their differences; they've just done an end run around them. They are no more united when they are done than they were when they began. There has got to be a better way." -pages 94-95
"But before we talk about what a better way might be, we have to tell one more unpleasant truth about the control-and-acquiescence model of male-female relationships. Defining male headship as control and female submission as acquiescence is not just misguided; it is dangerous. By idealizing rigidly defined gender roles, assigning power in relationships disproportionately to men, and encouraging both men and women to see this as spiritually appropriate and desirable, a theological ideology for abuse in intimate relationships is set in place." -page 95
On communicating via social media:
"Self-revelatory statements are made in isolation, and often to the world in general rather than to anyone in particular. They in turn are read by recipients who are busy with many other things or who may simply happen to be trolling the web for status updates. The result is less an electronic equivalent of conversation, and more a combination of exhibitionism and voyeurism." -page 114
On sex:
"One of the first things to be said about sex is that it is okay not to know everything. Our culture glorifies sexual prowess—many people simply assume that sexual experience and personal maturity go together, and that anyone who is virginal or otherwise inexperienced is for that reason a mere child. … In reality, experience and maturity are not the same thing. It is possible to have a great deal of sexual experience and to be a thoroughly immature person, and possible likewise to have little or no experience of sexual relationship and yet to be secure and well grounded in one's own masculinity or femininity." -page 137
"The foundations for a positive marital sexual relationship begin to be built long before the wedding night. If you and your partner are cultivating an intimate friendship in which you can enjoy one another playfully, talk with one another openly, work on shared projects cooperatively, problem-solve constructively, and relax together trustingly, you are well on your way to building a relationship in which sex can play a positive and intimate part." -page 144
On contraception:
"On its invention fifty years ago, the birth-control pill was hailed as a great advance over barrier methods, precisely because a woman did not have to negotiate its use with a sexual partner. Now the sense is that a once-a-day pill is too much trouble; people need 'fool-proof contraceptives that require almost no thought or action.' The obvious problem with this is that where contraception is foolproof and thoughtless, sex will be too. Is that really what any of us wants? Is that really compatible with Christian notions of what sex and marriage and human life itself are really all about?" -page 164
[callout]Click here for more information about (or to order) Are You Waiting For "The One?". [/callout]