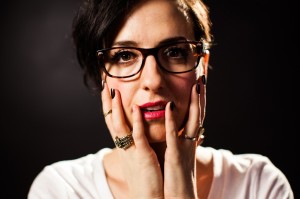 3 Lessons and 2 Tips is a series of interviews in which some of my favorite people (and probably some of yours) share three lessons they've learned by being married, plus two tips for single people.
This edition features Audrey Assad, "an independent singer, musician, and songwriter" who "has a great passion for extolling the peculiarities and joys of the Sacrament (of marriage). She now makes music for the Church which that Sacrament so vividly illuminates." I am grateful for the time she took to chat about what she's learned by being married:
AS: How did you meet your husband?
AA: I met my husband William at a youth conference in Tucson, AZ. I was there singing background vocals with Matt Maher, and William (who was a friend of Matt's) was working on production crew. We didn't really "connect" romantically till a year later, though. We were married in February 2011 in Phoenix, AZ.
AS: What's the first lesson you've learned by being married?
AA: Marriage is a path to holiness first and foremost. It is a way to encounter Christ, to follow Him, and to unite ourselves to Him.
AS: And the second lesson?
AA: No matter how prepared you are by counseling or reading books, every marriage is unique and special and has its own ups and downs. You're married to a specific person with a specific history and a specific worldview. So it's important to stay flexible!
AS: And the third lesson?
AA: A sense of humor is crucial to getting through those crappy days we all experience. It's easy to take frustrations out on the person who is closest to you. It's good to learn to laugh together when things are annoying.
AS: What's one tip for readers who are single?
AA: Single life is just as much a path to holiness as marriage is, so don't miss the occasions of sanctification while they're still there! Enjoy it as much as you can, and seize the opportunities for holiness that exist in your current state in life.
AS: And a second tip for singles?
AA: If you're called to marriage, you'll be a better and more whole spouse if you till the ground of your heart during your single years.
– – – –
Click here to connect with Audrey.
Click here to read all the posts in this series.