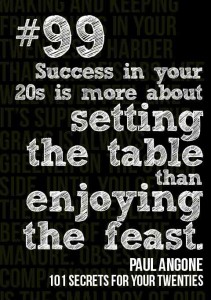 In last week's post, I invited you to share a secret: something you have learned so far in your 20s (or something you learned in your 20s if you're already out). Big thanks to all who participated! As promised, two participants won a free copy of Paul Angone's new book, 101 Secrets For Your Twenties. Here are their secrets:
No matter what you do or how you're dressed, someone out there thinks you're doing it wrong, and they can't believe you're wearing that. Someone else out there is really impressed with your accomplishments and fighting envy for your eyes, or hair, or outfit. Ignore it all. Do what's right, as best as you can figure it out, and if you mess up, apologize, then get up and try again. "Defeated" is a choice (albeit an extremely tempting one sometimes). -Mary Petrides Tillotson
I've learned recently what a gift singlehood can be – particularly in growth in one's prayer life. And after talking with young married couples, I've learned that one's prayer life will never be the same after marriage (not unexpected since all of life changes after marriage). -Aaron Ledgerwood
Congratulations to Mary and Aaron! Click
here
to read all the secrets readers submitted.