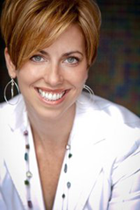 A few summers ago, I sat in the back of the first session of a secular human sexuality class at the University of South Florida. The class, which was part of the curriculum for my master's degree in counseling, worried me, at first. I wondered whether how inexperienced I am would come up in conversation, and how my classmates would handle it if it did.
But the class, taught by sex therapist Dae Sheridan, turned out to be one of the best I have ever taken. For a few hours a week, we could toss taboos and talk about sex and related topics.  The conversation with Dr. Dae, who became a mentor and friend, continued after I finished the class. When I asked for her insight regarding saving sex for marriage, she graciously agreed to let me share what she said with readers:
Arleen: Rumor has it "nobody saves sex for marriage." Is that true?
Dr. Dae: I absolutely don't think that no one does! There might not be as high of a percentage of people who are waiting until marriage, (but) I do see an increase in people who are waiting to be in loving, committed relationships. Sex is everywhere, to sell everything, so it's perceived that everybody's doing it, but not really everybody is doing it.
Arleen: Are there advantages to saving sex for marriage? (If so, what are they?) Continue reading "What a sex therapist said about saving sex for marriage."