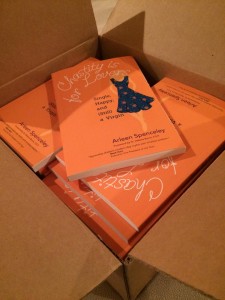 As I type, I am just steps away from two-hundred copies of the book that I wrote. The two parties* I'll host to kick-start that book's launch are just days away.
If you're in or near Tampa, I so hope I'll see you at one of them. But even if you aren't, please read on:
Amid all the prep for those parties, it is necessary to pause to express my gratitude to several people — some whose names you'll know and others whose names you should know. It is with gratitude that I offer these sincere thanks:
Thank you, thank you, thank you to each of the below listed people, businesses, and ministries, for believing my work is important and for expressing that by supporting my book's launch as sponsors:
CatholicMatch: Faith-focused dating and marriage is CatholicMatch's mission. The site, which is the largest and most successful website for single Catholics, has brought thousands of couples together. Visit catholicmatch.com.
Nick France, and MyCatholicTshirt.com: MyCatholicTshirt.com seeks to change the culture and spread the Gospel, one shirt at a time, with the shirts it sells, which are for "Christians of all stripes." Visit MyCatholicTshirt.com.
Concannon Miller:  Concannon, Miller & Co. is a public accounting and business consulting firm that provides an array of services to businesses, which include accounting, audit and attest services, tax planning and compliance, valuation services, and financial and estate planning. Visit concannonmiller.com.
Matt Fradd, and the Porn Effect: The Porn Effect, founded by Catholic apologist Matt Fradd, is designed to expose the reality behind the fantasy of pornography and to equip individuals to find freedom from it. Visit theporneffect.com.
Linda Spenceley, LMHC (aka my mom): Sometimes, when life becomes complex or overwhelming, it's necessary to seek assistance from a professional counselor. My mom is a licensed Catholic counselor who confidentially ministers to individuals, couples, and families in a safe, comfortable environment in Spring Hill, Fla. Visit stfrances.org/counseling-services.
Catholic musician/speaker Matt Faley: Matt Faley works fulltime in Catholic young adult ministry and uses this platform to share the gifts and talents he has been given to re-invigorate the Gospel for college students and young adults. As a speaker and musician, he brings his energy, authenticity and the gift of storytelling to college campuses, young adult groups and parish communities across the country. Visit mattfaley.com.
Matthew and Allyson Barry: Matthew, a local attorney (we went youth group together while we were in high school!), and his wife are lay sponsors of both my book launch parties.
Please support them by saying a prayer for each, visiting their sites, thanking them profusely on my behalf, following them on Twitter, telling all your friends about them… you catch my drift. 🙂
*For the dates/times/locations of both my book launch parties, click here.