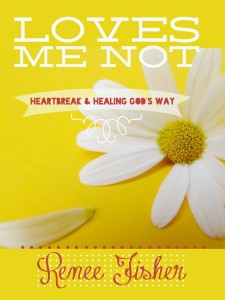 For we who have dumped (yep), been dumped (yep), and have had to navigate life as and after a relationship ends, there are few conclusions about it truer than this one:
…it kinda sucks.
This is why I am VERY excited to announce the recent release of an e-book by my friend and fellow blogger Renee Fisher. In Loves Me Not: Heartbreak and Healing God's Way, Fisher shares her own breakup story and sifts through other experience and Scripture to shine a fresh light on picking yourself back up after heartbreak knocks you down. Read it in one sitting, and here's why I think you ought to read it, too:
1. Because it says there is more to dating and breaking up than your heart.
"When it comes to our relationships, I think we're missing something. Jesus summarizes our highest commandment as: "Love the Lord your God with all your heart and with all your soul and with all your mind and with all your strength." … If the heart is only one quarter of the greatest commandment in the Bible, why are we emphasizing the heart like it's the only factor in love?" p. 5
2. Because it says how good our relationships are with each other depends in part on how good our relationships are with God.
"When our concern for God becomes clouded or replaced entirely by pursuing, pleasing, and protecting our earthly relationships, we're in danger. If we're not paying attention, can easily miss what God is trying to show us about our relationships. Desire for (or fear of) finding a spouse isn't as important as our relationship with Him. He's ready to show us how much we can accomplish for Him, regardless of our relationship status." p. 7
3. Because it says friends (and more-than friends) should build us up, not tear us down.
"Your friend should make you want to act like a better person. Everybody has bad days, but your friend or romantic interest should leave you more encouraged than drained." p. 13
4. Because it says there is a purpose behind the time it takes to grieve the loss of a significant relationship.
"I'd also like to say that everything got better instantly. Or that I had some radical transformation. I didn't. It was a step-by-step, day-by-day process to learn how to love myself, accept myself, and forgive myself for my many flaws. God knew I needed the journey." -p. 18
5. Because it says being content with your life is not a prerequisite for meeting a guy or girl you could marry.
"That's when I met Marc. … Please trust me when I say I wasn't content. I am the kind of person who is never satisfied with my relationship with God. I just hate that stupid cliche that so many married and/or older adults tell young people." -p. 58
For more information about Loves Me Not, click here.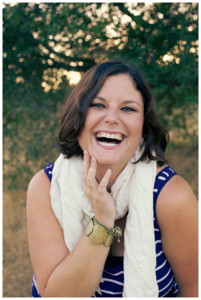 About the author: Renee Fisher, the Devotional Diva®, is the spirited speaker and author of Faithbook of Jesus, Not Another Dating Book, Forgiving Others, Forgiving Me, and Loves Me Not. A graduate of Biola University, Renee's mission in life is to "spur others forward" (Hebrews 10:24) using the lessons learned from her own trials to encourage others in their walk with God. She and her husband, Marc, live in California with their dog, Star. Learn more about Renee at www.devotionaldiva.com.