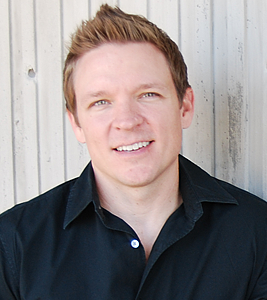 3 Lessons and 2 Tips is a series of interviews in which some of my favorite people (and probably some of yours) share three lessons they've learned by being married, plus two tips for single people.
This edition features Rhett Smith, MDiv, MSMFT, licensed marriage and family therapist in private practice in Plano, TX, who serves on staff at The Hideaway Experience marriage intensive in Amarillo, TX. He is the author of The Anxious Christian and What it Means to be a Man. He lives in McKinney, TX with his wife Heather – to whom he has been married since June 18, 2005 – and their two children. I am grateful for the time he spared to share three lessons and two tips:
AS: How did you meet your wife?
RS: I met my wife Heather at a young adult worship night at our former church in Los Angeles, Bel Air Presbyterian. After the service was over I found myself sort of milling around close to where she was standing, and eventually I got up enough courage to introduce myself.
AS: What are three lessons you've learned by being married?

RS: There are lots of things I've learned in marriage, so it's hard to break it down to three. But I think the most important things are the ones I constantly teach in my therapy work to couples because they have been so powerful to me.
AS: What's the first lesson?

RS: I had to learn how to stand on my own two feet and self-validate through my own sense of self and through my identity in God. In a good marriage, our partners validate and affirm us (other validation), but we also have to learn how to be self-differentiated (Schnarch) individuals, otherwise we can become needy and dependent on our partner to meet every need. That is exhausting for the other person.

AS: And the second?

RS: That marriage is either moving in one of two directions: forward and thriving, or backwards and regressing. Marriage is not a static state of a place that we hope to get to and can put on cruise control. Marriage is an active, intentional, daily practice.

AS: And the third?

RS: (Our) ability to connect, solve conflict, relate, etc. is in direct correlation to the amount of self-care we practice (physically, emotionally, mental, spiritually)

AS: What's one tip for readers who are single?

RS: First, before you get married you really have to work on yourself. You are responsible for yourself 100 percent, and if you are able to do that and work on the things that need work, then you will be able to bring your best self into the marriage.

AS: And a second tip for singles?
RS: Second, marriage is not about losing your identity and self in the other person, but rather about both of you coming together to create a beautiful we/us.
– – – –
Connect with Rhett:  Read more about Rhett's work at rhettsmith.com.
Click here to read all the posts in this series.