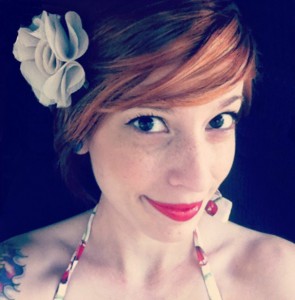 3 Lessons and 2 Tips is a series of interviews in which some of my favorite people (and probably some of yours) share three lessons they've learned by being married, plus two tips for single people.
This edition features Haley Stewart, a bookish, somewhat crunchy, hipster mama of three lively children. She's a writer, speaker, blogger, and Catholic convert.
Haley is married to "Daniel of the big beard and the green thumb." She's also a homeschooling, bacon-eating, coffee-drinking southern girl with a flair for liturgical feasts and a penchant for bright red lipstick. I am super pumped she agreed to share three lessons and two tips with us today.
AS: How did you meet your husband? 
HS: I met Daniel through a mutual friend when we were in high school at a Switchfoot concert. But he doesn't remember that. He recalls meeting me at the grocery store. But don't believe him, we totally met at a Switchfoot concert. I guess I just didn't make a big first impression? Not sure how I should feel about that.
AS: When did you get married?
HS: We were married in 2006 while we were still in college. I was 20 and he was 21. So we've been married about eight and a half years.
AS: What's one lesson you've learned in marriage?
HS: Complete forgiveness is the only way to heal. I think we're so ingrained with the idea that we need to stand up for ourselves that we have trouble really forgiving. You and your spouse will disappoint and hurt each other. That's inevitable. So what will you do then? If you can't forgive and move on, it will poison your marriage. Complete forgiveness will free you.
AS: And a second lesson?
HS: Marriage is about dying to self. If you view marriage as a way for you to have your needs met by another person, you're headed for trouble. You're not competing for happiness, power, and satisfaction. You are a team. I remember after our first child was born, we were both so exhausted. We began playing the "who's most exhausted" game in which nobody wins. It was miserable. We were both trying to hard to have our needs met instead of being a team. Now when we have a new baby in the house, we each put the other person's needs before our own. I try to make sure Daniel gets enough sleep so that he can be alert at work. Daniel gets up in the early morning with the newborn and then makes the big kids' breakfast so I can get some rest before the day gets going. We're a team on this adventure instead of competing to put our own needs first. And it is a LOT more fun that way.
AS: And a third lesson?
HS: Protect your time to just be together. During our third year of marriage we instituted a weekly date night and it improved our marriage so much. Even if we can't go out to eat just the two of us (that only happens a couple of times a year), we either drop the big kids at grandma's and just take the baby, or tuck the kids in bed a little early and cook a fancy dinner and drink red wine, just the two of us. The point is just being together. Reconnecting, talking, giving each other our full attention and having fun. A night devoted to enjoying each other's company.
AS: What's one tip for single readers?
HS: My dad once told me, "Run toward Jesus as fast as you can and see who's keeping up." I think that's probably the best advice.
AS: And a second tip for single readers?
HS: Find ways to serve others and make it a habit. If you're called to marriage, the journey of dying to self will be a lot less painful if you've already started to practice self-giving.
[callout]Connect with Haley Stewart: Click here to visit her blog, Carrots for Michaelmas. She's also on Facebook, Twitter, and Instagram.[/callout]