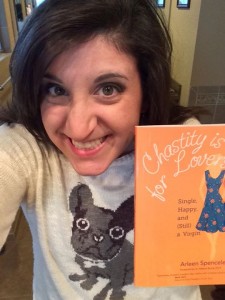 YOU GUYS.
Chastity is for lovers.
It's both a true fact and the title of my book, Chastity Is For Lovers: Single, Happy, and (Still) a Virgin.
I wrote this book for a few reasons: Because virgins exist, who have felt alone, and I want them to know that they aren't. Because people who are saving sex from now on exist, who have wondered if chastity is actually possible. I want them to know that it is. Because people exist who haven't heard of chastity, or who have rejected it based mostly on a misconception of it that was presented to them at youth group 20 years ago. I want to clarify it for them.
Also, I want to give one (or maybe more than one…hmm.) of you a signed copy. Spread the word about Chastity Is For Lovers via the Rafflecopter contest below, and you're entered. Participants must live within the United States to qualify. Winners will be notified via email.